Do you feel lost on Alibaba? Competitive prices, short lead time, number of license …are tending to be the basic criteria for suppliers to meet. Beside numeric metric, what else should purchasing managers consider before choosing a long term supplier? Suppose you already did your homework and have a list of suppliers to evaluate, what other criteria could help you filter out real manufacturers instead of scammers from Alibaba?
Verify Legitimate Manufacturers.
Before you start to get in touch with supplier, you might want to double check whether this supplier is truly a manufacturer. Below is a quick checklist that helps identify a legitimate manufacturer. If your suppliers fail to provide below information, they might be middlemen, trading companies or any other bad apples.
Company Name
嘉瑞國際有限公司 (Taurus International Co., Ltd)
Checklist
Factory Address

Taiwan Address (HQ):彰化縣埔心鄉永坡路一段114號

No.114, Sec. 1, Yongpo Rd., Puxin Township, Changhua County 513, Taiwan (R.O.C.) 

Postal Code: 51343

TEL: + 886-4-8282477 | FAX: +886-4-828-1040

China Address:中華人民共和國浙江省绍兴市越城區東湖鎮仁渎村中亚工贸园区3號樓

Building 3, Central Asia Trade and Industry Trade Park, Rendu Village, Donghu Town, Yue Cheng District, Shaoxing, Zhejiang Province, China PRC (People's republic of China)

Postal Code: 312000

TEL:+86-128 058 55726

V

Year Established

1992. (Manufacturing for 25 years )

V

Major Product Line

Cargo Secure Products-- Tie Downs (Ratchet Straps)

V

Major Shipping Port

Ningbo Shanghai (CN), Taichung (TW)

V

Sales Region

80% United States, 18% Europe, 2% Others.

V

No. of Employees in Trade Department

<20 people

V

On-site packaging Capabilities
Equipped. For detail, please contact Taurus@taurus.com.tw.

V

Testing Machines
Equipped. For detail, please contact Taurus@taurus.com.tw.

V

Factory Visit

Available upon request

V

Factory Registration

Available upon request

V

Factory Certification

ISO9001:2009

V

Email Domain

Consistent as taurus.com.tw

V

Verify Website

www.taurus.com.tw

V
Finally, you should try to use Tradesparq to confirm further detail. Tradesparq is a trade networking platform helping global B2B buyers find and verify foreign suppliers. Importers are able to track shipments, trade partners, shipping ports, and its capacity. If you found out that some familiar brands pop up or sales percentage in your region is high, you might find a real gold supplier!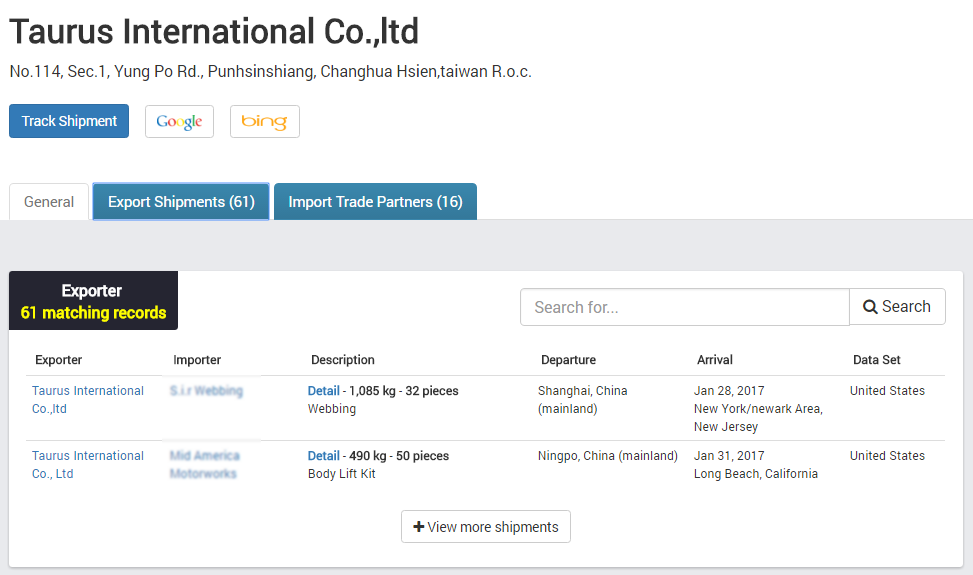 Available to touch on base at trade shows
Trade show is still one of the fastest ways to find legitimate suppliers. You can interact with potential suppliers face to face to know more about their products and abilities. When you interact with sales person directly, it's clearly to tell how strong confidence and expertise they have toward the products. Moreover, free sample are available for you to evaluate right away.
Below are regular trade shows that Taurus had participated before.

Taurus has been participated 3-4 trade shows annually since 2000. For us, trade show is not the first touch point anymore, it a great chance to shake hands with our current and potential clients, discuss product requirements, and build a closer business relationship.
Evaluate Soft Skills: Product Expertise and Service Quality.
It's impossible to have a perfect supplier, but it's possible to have a great partner to do business with. First of the key criteria is Product Expertise. As a buyer, you definitely don't want to waste time on inexperienced suppliers and traders because you have to explain details and worry about product quality all the time. A trustworthy supplier will be able to discuss with your demand in target market and demonstrate similar products that they have produced for the same market before.
Secondly, service quality that includes English communication skill, response speed and response rate is another criterion that cannot neglect. Interpersonal relationships directly impact such factors as repurchase decisions, sharing critical updates, collaborative education, and the degree of strategic partnership. Service quality is also the key differentiate point for Taurus International Co., Ltd. We believe that success comes from good cooperation for both ends. We might not have great number of customers, but we have great percentage of long term customers that we could grow business with.
If you want to find out more about our product policy, please visit Top Q&A About Taurus.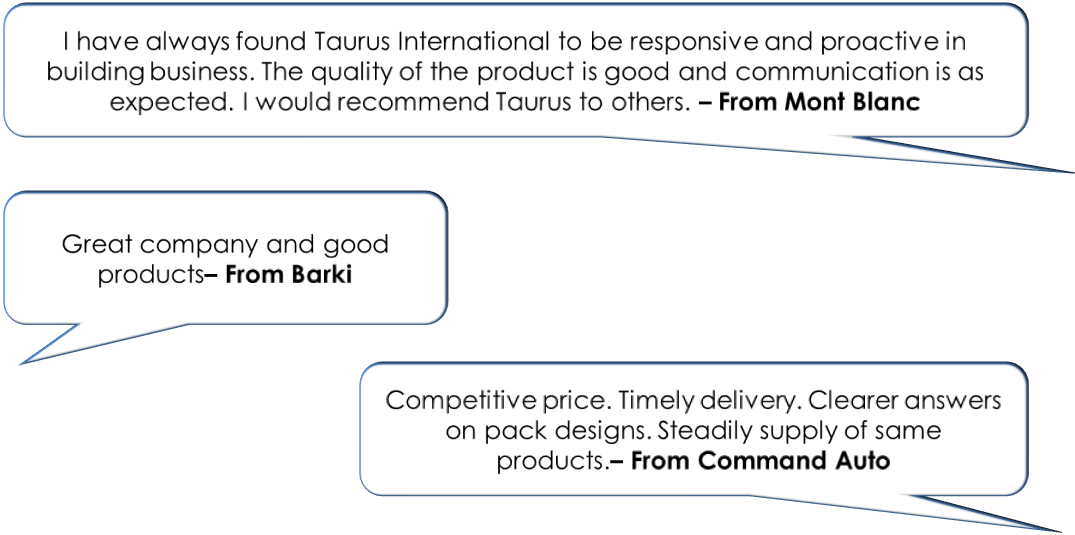 Relevant Source:
How to find suppliers beyond Alibaba: Online, Offline, and Thinking outside the box
How To Evaluate A Supplier From China
5 KEY INDICATORS OF A GOOD CHINESE SUPPLIER